Confirmware Linear rotary sorter,new arrival to hit the market!
2020-8-11

Source:Hangzhou ConfirmWare Tehnology Co., Ltd.
https://en.confirmware.com/new/confirmware-linear-rotary-sorternew-arrival-to-hit-the-market/
---
Refuse to stick to the beaten path, to simplify, to break the established pattern, to create innovative works with ingenuity.Confirmware Linear rotary sorter,new arrival to hit the market!
The same sorter with unique and ingenious design
Different from the traditional linear sorter and cross-belt driven by carriers in the market, Confirmware Linear Rotary Sorter makes the package delivery mode based on the innovative local rotation which enables the carriers to realize no-track operation, and the unique design fully displays the product advantages:
effectively reduces the noise generating points, reduces the noise, and greatly improves the working environment.

Modular design, flexible configuration: chutes and carriers can be carried out according to the customer's site conditions and requirements.

Small footprint: The standard equipment with 30 chutes covers an area of only 20m*2.2m, the requirements on site floor height are low and site adaptability is strong.

8 days delivery: It can be promised that 7 days for delivery, 1 day for debugging and come into service in 8 days.

Convenient assemble and disassemble: It can be quickly disassembled and remounted if the site is changed.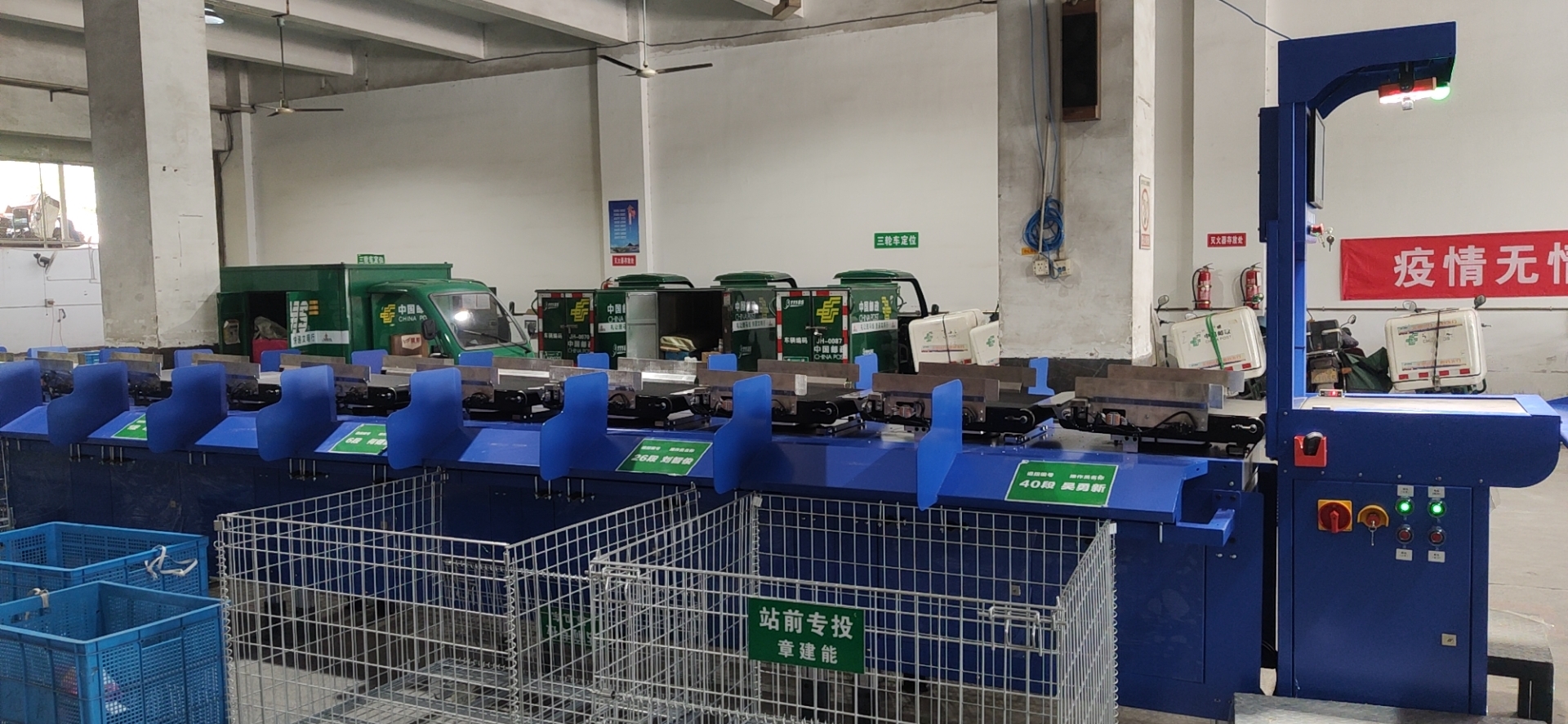 Think what your desire and what your need
For small and medium express branches,the price with at least one million yuan for Circle-cross Belt Sorter always scares many investors. While there are still some pressing issue to be solved, like quick response, lower cost-higher profit, decreasing labor and maximum utilization of site. How to get through a tight encirclement and maximize the benefits? Confirmware Linear Rotary Sorter is the perfect answer.
Equipment Economic Payback★★★★★
One year to get back the investment even with profit, are you interested?
Running Efficiency★★★★
≥5000 PPH, meet your sorting demand, optimize management and operation
Footprint Requirement★★★★★
Small footprint,(Number of chutes/2*0.85m+7m) *2.2m, standard height makes 1.2m, no requirement for floor height, highly matched to the current site.
Flexible Configuration★★★★★
Chutes and carriers can be carried out according to the customer's current demand, later it could be expanded on demand, helping the growth of your business.
Along with the introduction of Linear Rotary Sorter, Confirmware Logistic Sorting System has completed all the coverage of different sorting scene, from large hub, E-commerce warehouse distribution system, to end branches, small and medium warehouse. We can provide integrated solution including conveyors and sorting equipment according to product features, processing speed and other factors.
| | |
| --- | --- |
| Confirmware Products Line | Scope of Application |
| Cross Belt Sorter(High Speed 3m/s) | Large hubs |
| Cross Belt Sorter(Standard 2.5m/s) | Standard throughput,medium and large express branches and distribution center |
| Tilt Tray Sorter | processing demand for irregular package, large and medium express branches and distribution center |
| Steering wheel Sorter | Distribution center and branches for large and irregular package process demand |
| Linear Rotary Sorter | Express branches and E-commerce warehouses with a small area |
Every innovation and every detail come from countless times of exploration and verification. We are committed to creating high quality automation products that can solve the industry's pain points and looking forward to providing satisfactory service and experience to you.
---
Author: Hangzhou ConfirmWare Tehnology Co., Ltd.
Editor: Wingsi Zhou
[Disclaimer] This page is reproduced. The purpose is to convey more information of the industry. LET official website assumes no responsibility for any views or errors contained herein. If the content of the work, copyright and other issues are involved, please contact us within 30 days, we will delete the content as soon as possible.
TAG:&nbsp&nbsp&nbspLET - a CeMAT ASIA event